WELCOME TO THE INDOOR VOLLEYBALL PROGRAM WITH JRT VOLLEYBALL ACADEMY
Program Name:
After School Volleyball Program
Target Group: 
16 & Under for VolleyTeens Program
11 & Under for VolleyKidz Program
Program Duration:  
7 sessions per term
Dates:
Jan 2023; 6, 13, 27
Feb 2023; 3, 10, 17, 24
---
Full Course fee $435
Course Fee $385
Registration fee of $50 (New sign up)
*Families with second and subsequent members are entitled to an immediate rebate of Sibling discount $20 for the term course fee
*JRT contracted school athletes are entitled to a one time rebate of 15% off for the course fee.
*Prorate fee will be provided for mid term sign up athletes – one time.
Training Venue:
JRT Volleyball Academy UTCH (Indoor Volleyball)
600 Upper Thomson Rd, #01-153, Singapore 574421
*Terms and Conditions apply. Please contact our Help-desk @ 94597234 for more information.
How to sign up:
STEP ONE
Click Here to Book the VolleyKidz (6-11 year olds)
Click Here to Book the VolleyTeens (12-16 year olds)

Not sure if the program suits you or your child before commit to the term?
Click the link below for a trial class
TRIAL SESSION
STEP TWO
Payment is to be made upon confirmation of class (Min 4 to start the class).
Please retain a payment reference screenshot for verification. 

The available payment options are indicated below:
Option 1.
Payment via PayNow (QR Code)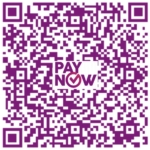 Option 2.
Payment via HITPAY option available in the email.